Get the "5 Tools for Inventory Management" white paper.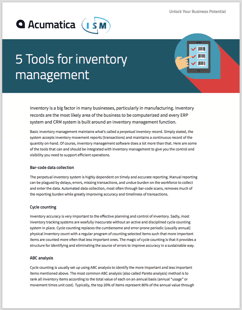 Inventory is a big factor in many businesses, particularly in manufacturing.
Learn more about some of the tools that can and should be integrated with inventory management to give you the control and visibility you need to support efficient operations in the "5 Tools for Inventory Management" white paper.
Inventory records are the most likely area of the business to be computerized, and every ERP system and CRM system is built around an inventory management function.
Basic inventory management maintains what's called a perpetual inventory record. Simply stated, the system accepts inventory movement reports (transactions) and maintains a continuous record of the quantity on hand.
Inventory tracking is a requirement for financial control and basic business management processes.
But inventory management and inventory data can be a valuable resource in the quest for performance improvement, higher levels of customer service, cost control, product development, and overall company success.
Integrated inventory management systems, a critical part of ERP, provide the basic tools and significant additional capabilities to make ERP even more beneficial for your company's future.
Download the white paper to learn more about:
Bar Code Data Collection
Cycle Counting
ABC Analysis
Integrated Planning and Execution
Lot Tracking and Traceability